Shion Sumeragi
皇紫音
Sumeragi Shion
Statistics
Age
17
Gender
Female
Debut
Light Novel
Vol. 1
Anime
Ep. 1
Voice Actor/Actress
Shion Sumeragi
 (
Shii
for short) is a genius who comes from a family of people with similar prowess in different fields.
Appearance
Edit
Shion is a tall and pretty girl with long purple hair and violet eyes. She wears her school coat drooping from her shoulders.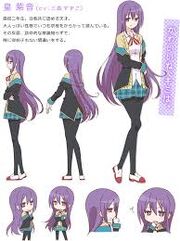 Personality
Edit
Shion is a very calm and intelligent girl who doesn't like being called a genius, as it bothers her and also lacks common sense.
The name Shion is Aster tataricus (a type of flower). According to Japanese floriography, it means "I won't forget you" or "remembrance'". Shion contains the Japanese word for "tide" (潮 shio).
Shion's surname Sumeragi means "emperor".
Shion has a low body temperature.
Shion has a younger brother, who is a barista.
One of Shion's most notable traits is that she lacks common sense.
Main article: Shion Sumeragi/Image gallery.