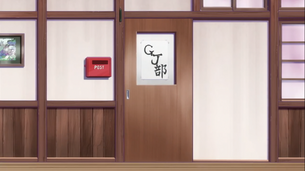 GJ-bu (also known as GJ Club) is a club attended by 
Kyoya
 and the others.
Club Member
Edit
This club has a tradition to forcibly take 1st year students and recruit him/her as a member. Known victims are Kyoya and Tamaki.
If you looking carefully, at the left of Computer that usually Shion use for playing chess, there's a bookshelf with some Indonesian Title.

And some book of that has a Indonesian's Name of Writer.
The Book "Big Trik!" has 2 mixed language, English and Indonesian (Trik in Indonesia = Trick in English).

If you noticed when Kyoya playing as a doctor, there's a box named "From Indonesia" (tough some letter covered by number), and a box named "Ada Apa Dengan Cinta".
Because of there's some Indonesian's Language Book and Box, some fan from Indonesians sometimes call this club as GaJe Klub / 'Klub Gak Jelas (read: Unclear Club or Club that not have particular activity).